Naprej pa v slovenščini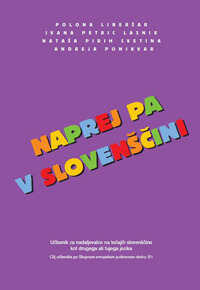 The textbook and CD Naprej pa v slovenščini is aimed at intermediate level learners of Slovene as a second and foreign language. It is suitable for foreign learners with a knowledge of the language at level A2 of the Common European Framework of Reference. It is intended to bring learners to CEFR level B1, meaning that they will be able to function independently and appropriately in most communication situations that frequently occur in a Slovene speaking environment. The text book is aimed at group work with a teacher, usually on a course of approximately 80 hours. Its content builds upon that in the text books A, B, C … gremo and Gremo naprej.
The authors are Polona Liberšar, Ivana Petric Lasnik, Nataša Pirih Svetina and Andreja Ponikvar. All have many years of experience teaching Slovene to foreign learners both in Slovenia and abroad, and have contributed to the development of a range of materials for Slovene as a second and foreign language.
---
See also:
Teachers' books: