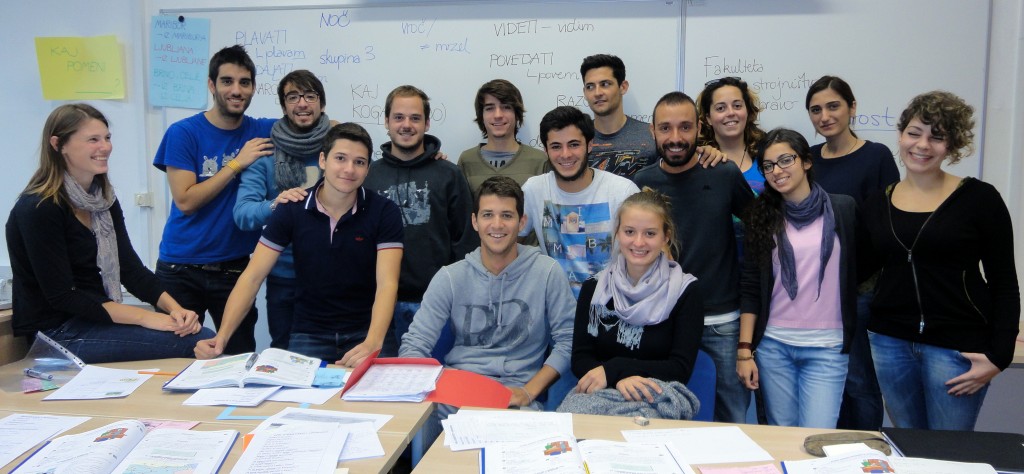 Intensive Course of Slovene for Erasmus+ Students
The course is only intended for students registered in a higher education institution holding an Erasmus Charter for Higher Education (ECHE), who have been selected for an Erasmus+ study/placement period. The course is co-funded by the European Union. It is intended for beginners in Slovene.
The deadline for applying: 16 June 2017. Enrolment places are limited!
4–22 September 2017
29 January–16 February 2018
Application Form
Course and duration
before the Winter semester: 4–22 September 2017
before the Spring semester: 29 January–16 February 2018
Monday to Friday from 9.00 am to 12.30 pm
4 school hours a day, 60 hours altogether
Price: 75 EUR
The textbook is included in the price.
Certificates

After successful completion of the course participants are awarded 3 ECTS (European Credit Transfer and Accumulation System). A 87-percent attendance is required in order to receive a certificate, thus each participant can be absent for two school days.

Accommodation

Looking for accommodation in student dormitories will be assisted by the Office of international relations at the University of Ljubljana. The application form can be found on their website, the deadline for applying is 15 May (winter semester, full academic year) and 15 November (summer semester).

Helena Deršek Štuhec (Ms)
12 Kongresni trg
SI-1000 Ljubljana
T: +386 1 2418 592
F: +386 1 2418 593
E: intern.office@uni-lj.si

Looking for private accommodation will be assisted by the Student Organization of the University of Ljubljana after your arrival to Ljubljana. Before your departure you should book yourself a hostel for the first few nights.

ŠOU v Ljubljani
6 Pivovarniška
1000 Ljubljana
E: rooms@sou-lj.si