56th Seminar of Slovene Language, Literature and Culture
CREATIVE WOMEN IN SLOVENE LANGUAGE, LITERATURE AND CULTURE
Ljubljana, 29 June–11 July 2020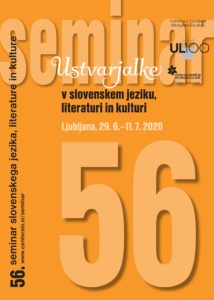 Important dates
Programme
Presentation

The main seminar programme includes practical language classes (2–3* school hours per day), conversation classes (1–2* school hours per day) and phonetics classes (4 school hours for intermediate and advanced groups, or 6 school hours for each beginners group), as well as lectures and special courses. Participation in this part of the programme is compulsory and is required in order to obtain the certificate of attendance. There is also a rich, optional afternoon/evening programme of different events.

*The balance between the number of hours for practical classes and conversation is agreed by the lecturers.

Classes and lectures

Practical language classes

Practical classes will probably be organised in 3 beginners, 4 intermediate and 3 advanced groups. According to their interests, participants of the advanced groups can choose among linguistic, literary and general groups. Individual participants are assigned to an appropriate group on the basis of a language test completed before arrival at the seminar, and oral testing carried out at the beginning of the seminar. Practical classes are compulsory for all participants.

Conversation classes

These classes are aimed at improving communication skills, extending vocabulary, internalising communication patterns and eliminating errors. They will deal with themes taken from everyday life, with an emphasis on practical communication and on extending acquaintance with Slovenia and its culture. In the afternoons, beginners and intermediates groups will have 12–18 additional hours of conversation with Ljubljana students of Slovene Studies; these conversation classes are compulsory.

Phonetics classes

Phonetics classes are compulsory and organized on two different levels: (a) classes for beginners that start with an introduction to the Slovene spoken language and specifics of its phonetics, with examples from texts. This is followed by practical exercises to improve pronunciation and listening skills necessary for more efficient learning and use of the language. The exercises are adjusted to the participants' level of knowledge and to their mother tongue; (b) exercises for intermediate and advanced level, intended to improve speaking skills and understanding of spoken texts.

Lectures

Lectures (12 school hours) will offer the latest thoughts on and achievements in Slovene linguistics, literature and culture. They are compulsory for participants in higher intermediate and advanced groups, but others can also attend since they are public. The 56th Seminar of Slovene Language, Literature and Culture will focus on Creative Women in Slovene Language, Literature and Culture. As always, the lectures will appear in the seminar proceedings and on the website. Similarly, the lectures will also appear on the portal Videolectures.

Special courses

Elective courses of 4 school hours each take an in-depth look at current issues relating to the Slovene (standard) language and literature, translation, Slovene culture and Slovene as a second and foreign language. Classes take the form of workshops. The lecturers' contributions are published in the seminar proceedings. Selection of and participation in an elective course is compulsory for all those in intermediate and advanced groups.

Accompanying programme

The seminar also offers a rich afternoon-evening programme, which includes themed guided tours of Ljubljana, the showing of a Slovene film, a theatre performance, visits to museums, galleries and libraries, musical and literary evenings, etc. This additional programme includes a whole-day study excursion, which will take place this year on Saturday, 4 July 2020.