56th Seminar of Slovene Language, Literature and Culture (distance learning)
In Ljubljana and around the world, 6-17 July 2020
(Programme is only available in Slovene Language.)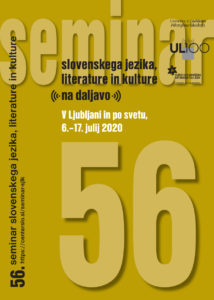 Important dates
| Opis | Datum |
| --- | --- |
| Submission of registration forms and language tests for scholarship recipients | 1 April 2020 |
| Oral testing | May–June 2020 |
| Registration by those paying for themselves | 1 June 2020 |
| Payment by those paying for themselves | 20 June 2020 |
| Notification before the seminar | 25 June 2020 |
| 56th SSJLK (distance learning) | 6–17 July 2020 |
General Information
Organisers

The seminar is organised by the Centre for Slovene as a Second and Foreign Language at the Department of Slovene Studies, Faculty of Arts, University of Ljubljana, Kongresni trg 12, SI-1000 Ljubljana, and will involve the use of a videoconferencing tool (e.g. Zoom).

Head of the seminar and language teachers: Dr. Damjan Huber

Main organisational committee: Dr. Damjan Huber, Dr. Simona Kranjc, Mag. Mateja Lutar, Dr. Mojca Nidorfer Šiškovič, Dr. Marko Stabej, Dr. Alenka Žbogar

Lecturers and language teachers

The lecturers and language teachers leading the seminar are proven experts from the University of Ljubljana Faculty of Arts and outside collaborators.

Lecturers: Dr. Božidar Jezernik, Dr. Simona Kranjc, Dr. Martina Malešič, Darja Pavlič, Dr. Marko Stabej, Dr. Alenka Žbogar

Language teachers: Boštjan Božič, Simona Gotal, Magda Lojk, Tjaša Lorbek, Mag. Pavel Ocepek, Dr. Mladen Pavičić, Ivana Petric Lasnik, Dr. Mojca Smolej, Dr. Hotimir Tivadar, Dr. Saša Vojtech Poklač, Martin Vrtačnik, Dr. Luka Zibelnik

Participants

The seminar participants are foreign Slovene Studies and Slavic Studies specialists, writers, translators, experts in comparative linguistics and literature, and others who include Slovene in any other way in their life and work: teachers, researchers and students of Slovene and Slavic Studies at universities and research institutes abroad and in ethnic Slovene areas, etc. At the seminar they deepen and enrich their knowledge, learn about the latest findings and have genuine contact with the Slovene language, literature and culture.

Scholarships

The Seminar of Slovene Language, Literature and Culture is the central scholarly event through which the Republic of Slovenia promotes the study of and research into Slovene language, literature and culture throughout the world, by granting financial support on the basis of international contracts and co-operation programmes for ethnic Slovene organisations and researchers who are professionally engaged in Slovene, and for students at foreign universities who study Slovene. In allocating these scholarships, priority is given to Slovene specialists, university teachers, research and teaching assistants, postgraduate students and students of higher classes.

Scholarships for the 56th Seminar of Slovene Language, Literature and Culture will be granted within the framework of: lectureships in Slovene at foreign universities; Slovene institutions in Austria, Italy and Hungary; and programmes of international cultural cooperation at the relevant institutions outside Slovenia.

Registration

Those receiving scholarships are requested to complete by 1 April 2020 the registration form on our website at the website (56th SSJLK, Registration Form). You are also requested to send by 1 April 2020, along with the completed registration form, the completed language test, or to send it to ssjlk@ff.uni-lj.si or to damjan.huber@ff.uni-lj.si.

The registration form for participants of the 56th Seminar of Slovene Language, Literature and Culture paying the seminar fee themselves should be sent by 1 June 2020. You can apply via the Internet at the website (56th SSJLK, Registration Form).

In May and June 2020 placement interviews with participants will take place via videoconferencing.

Payment (for participants who pay the fee themselves)

The registration fee includes language classes, conversation classes, phonetics classes, lectures, learning materials, the accompanying programme, and event organisation.

Price for those paying for themselves: 572 EUR

After we have received your registration form, we will send you the invoice for payment of the fee by e-mail. You can pay the invoice at any bank or post office. Please send your payment receipt no later than 20 June 2020. You can send it to our e-mail address. Please bring along a copy of the receipt when you join the seminar in order to help clarify possible misunderstandings.

Upon receipt of your registration form we shall send you the language test, which will help us place you in the right group.

Certificates

Participants at the Seminar of Slovene Language, Literature and Culture achieving 80 per cent participation in the compulsory seminar programme (language exercises, conversation practice, phonetic exercises and lectures) will receive a certificate of participation.

Contact address

Univerza v Ljubljani
Center za slovenščino kot drugi in tuji jezik
Seminar slovenskega jezika, literature in kulture
Damjan Huber
Kongresni trg 12
SI-1000 Ljubljana

T: 00386 1 241 86 76
E: ssjlk@ff.uni-lj.si, damjan.huber@ff.uni-lj.si
Programme
Presentation

The main seminar programme includes practical language classes (18 school hours per day), conversation classes (18 school hours per day), phonetics classes (4 school hours) and 6 lectures. Participation in this part of the programme is compulsory and is required in order to obtain the certificate of attendance. In the afternoon and evening there is a non-compulsory accompanying programme for participants.

Language exercises, conversation practice, phonetic exercises and lectures will involve the use of a videoconferencing tool (e.g. Zoom). Otherwise, the classes will be similar to classroom teaching. The language teachers will be with you live each day for 4 school hours and are available for questions.

To take part in the online seminar you will need a good internet connection, a computer with a camera and microphone, and a quiet space.

*1 school hour = 45 minutes.

Classes and lectures

Practical language classes

Practical classes will probably be organised in 1 beginners, 2 intermediate and 2 advanced groups. According to their interests, participants of the advanced groups can choose among linguistic and literary-general groups. Individual participants are assigned to an appropriate group on the basis of a language test completed before arrival at the seminar, and oral testing before the seminar starts. Practical classes are compulsory for all participants.

The classes take place between 9.00 and 10.30 (Slovene time).

Conversation classes

These classes are aimed at improving communication skills, extending vocabulary, internalising communication patterns and eliminating errors. They will deal with themes taken from everyday life, with an emphasis on practical communication and on extending acquaintance with Slovenia and its culture. Conversation classes are compulsory for all participants.

The classes take place between 11.00 and 12.30 (Slovene time).

Phonetics classes

Phonetics classes are compulsory and organized on two different levels: (a) classes for beginners that start with an introduction to the Slovene spoken language and specifics of its phonetics, with examples from texts. This is followed by practical exercises to improve pronunciation and listening skills necessary for more efficient learning and use of the language. The exercises are adjusted to the participants' level of knowledge and to their mother tongue; (b) exercises for intermediate and advanced level, intended to improve speaking skills and understanding of spoken texts.

The classes take place between 9.00 and 10.30 or 11.00 and 12.30 (Slovene time).

Lectures

Lectures (6 hours) will offer the latest thoughts on and achievements in Slovene linguistics, literature and culture. Lectures are compulsory for all seminar participants, but others can also attend since they are public. Summaries of the lectures will be published in the Guide to the 56th SSLLC  and on the website. The lectures will also be made available on the portal Videolectures.

It is envisaged that the lectures will take place on Tuesday 7th, Wednesday 8th, Friday 9th, Monday 13th, Tuesday 14th and Wednesday 15th July, from 14.00 to 15.00 (Slovene time).