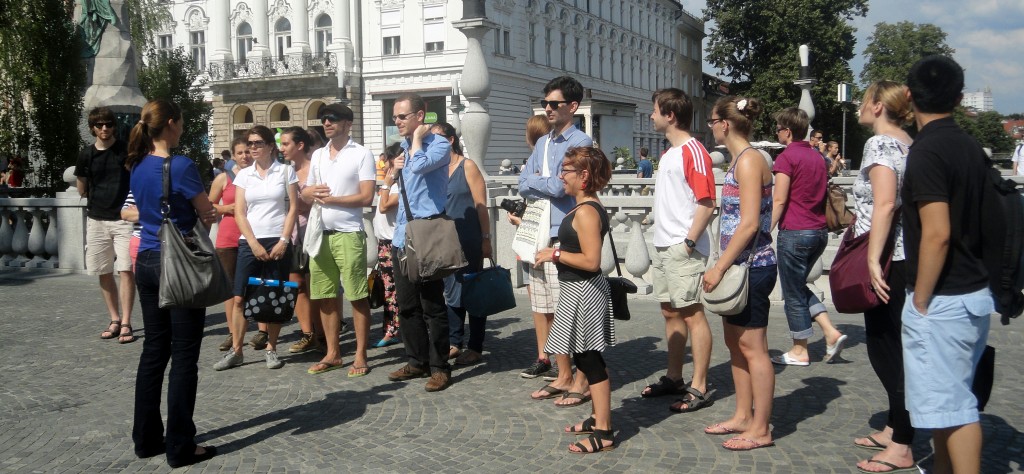 Summer School of Slovene Language
NOTICE: Due to the current situation, Summer School in classic form has been canceled this year. This year's Summer School will be held online. You can find more information about the Online Summer School and registration HERE.
We invite you to visit Slovenia this summer to take a course in Slovene while enjoying an unforgettable Slovene holiday.
29 June–24 July 2020
Application Form
Course and duration
four-week course: 29 June–24 July 2020
two-week course: 29 June–10 July 2020 or 13–24 July 2020
Morning course
you can choose between two-week (40 hours) and four-week course (80 hours)
4 lessons each day for a total of 20 lessons a week (1 lessons = 45 minutes)
Monday to Friday from 9.00 am to 12.30 pm
Elective afternoon course
If you want your studies to be more intensive, you can decide to attend an optional course, i. e. two additional language classes a day.
30 June–10 July 2020 and/or

14–24 July 2020

2 lessons each day for a total of 18 lessons in 2 weeks
Tuesday/Monday to Friday from 2.00 pm to 3.30 pm
With regard to your level of knowledge of Slovene, you can select from among the following courses:
Individual elective courses will be held if at least five students enroll.
Price
992 EUR for a 4-week course (80 hours)
600 EUR for a 2-week course (40 hours)
180 EUR for a 2-week elective course (18 hours)
Tuition fees cover language courses as well as the learning material and accompanying activities programme.
Accompanying programme

Summer school activities are not limited to language learning; there is also a varied accompanying programme, where you can get acquainted with Slovene culture, history and contemporary reality. In workshops, you will learn about cultural practices and customs, meet famous and interesting Slovenes, see a Slovene film or a theatrical production, go to a concert and do some sports.

The activities of the accompanying programme are held in the afternoons and in the evenings and are covered by the tuition fee. Parts of the accompanying programme are translated into English, which enables beginners to follow those activities as well; other activities are held only in Slovene and are meant as a direct complement of the language courses.

Certificates

Certificate of Attendance 

At the end of the Summer School you will receive an official Certificate of Attendance of a Slovene language course at the Faculty of Arts of the University of Ljubljana.

Credit points

After successful completion of the course participants are awarded ECTS (European Credit Transfer and Accumulation System) credit points:

3 credits for a 60-hour course,
4 credits for an 80-hour course,
5 credits for an 100-hour course,
6 credits for a 120-hour course.

Certificate of Slovene

If you want to obtain an official certificate of Slovene you can take the Exam of Slovene at the Basic, Intermediate or Advanced Level carried out by the Examination Centre at the Centre for Slovene as a Second/Foreign Language and other institutions in Slovenia (only the Bacis Level).

Participants

Anyone with an interest in learning Slovene is very welcome. However, participants must be at least

18 years old

; younger participants should attend the

Youth Summer School

.

Health insurance

Participants of the course do not automatically have special health and accident insurance and this is why you are asked to arrange your own health insurance in your country of residence prior to your arrival in Slovenia.

Warning

Although the Centre for Slovene is a part of the University of Ljubljana, participants do not acquire student status by enrolling in a Slovene language course. Participants of longer courses, however, can obtain a student discount for the purchase of public transport bus tickets in Ljubljana (school monthly card Urbana can only be obtained until the age of 27).

You should also read other general information.

Registration & Payment

You can apply for the course using the application form no later than 15 June 2020 (and 29 June for the course 13–24 July). After we have received your application form, we will send you the invoice by e-mail.

The tuition fee must be paid in full no later than 19 June 2020 (and 3 July for the course 13–24 July). You should send your payment receipt via e-mail. When we have received the payment receipt we will send you the letter of acceptance as well as information material on the Summer School.

Scholarships

Members of Slovene ethnic minorities in other countries and descendants of Slovene expatriates and emigrants can apply for the scholarship (2-week morning course). The deadline for applications is

15 March 2020

.

More information and application…

Candidates who do not have Slovene background, but are actively engaged in Slovene culture or in some other way contribute to the promotion of Slovenia in the world can apply for one of the scholarships of the Jana Zemljarič Miklavčič Scholarship Trust. The deadline for applications is 1 May 2020. More…

Accommodation

Centre for Slovene does not organise accommodation, however it is recommended that you arrange it prior to your arrival to Slovenia.

We look forward to seeing you in Slovenia!